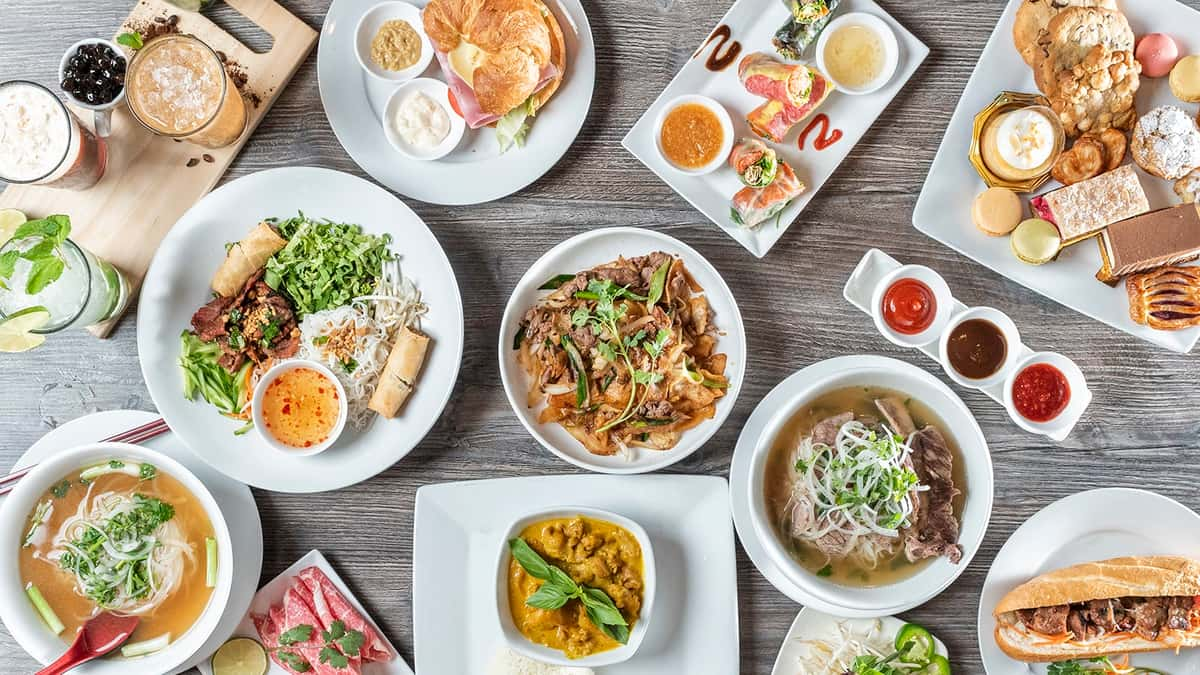 Beer and Wine
Become a VIP
Be the first to receive updates on exclusive events, secret menus, special offers/discounts, loyalty rewards & more!
Beer and Wine
Beer List
Singha Beer $3.50
A premium quality German style lager brewed from the finest ingredients with 100% barley malt from Australia, Ireland, and France and saaz hops from Germany and Czechoslovakia. Full bodied and rich in taste with strong hops character with no adjuncts and 100% artesian water. Thailand's #1 export beer.
Delirium Tremens $8.50
Color and slight-Pale blond, the fine and regular effervescence ensures a fine and stable head. Scent is slightly malty, a nice touch of alcohol, spicy. Flavor feels like a shot of alcohol is igniting the mouth but in reality the tongue and palate is warmed. The taste is characterized by its roundness. The aftertaste is strong, long-lasting and dry bitter.
Strand 24th Street Pale Ale $5.50
Brewed with pale, crystal and German Munich malts and hopped with Summit, Cascade and Amarillo, this pale ale is incredibly well balanced. It is slightly floral, slightly fruity and ends with a subtle bitter finish.
Mission Blonde $5.50
Kölsch-style Ale; with the color of a pilsner and the character of an ale, our blonde is a welcome and refreshing respite. Brewed with an authentic kolsch yeast strain, a peck of fruitiness compliments the blend of noble hops. Lager-like with its delicate dryness, it really is reminiscent of ales from Köln, Germany.
Anderson Valley Winter Solstice $4.50
Winter Solstice® is our take on the classic style of "winter warmer." Boasting a deep amber hue and rich mouthfeel, its creamy finish will lift your spirits. Hints of toffee, spice, and caramel tease the senses making this the perfect ale to share with friends and family during the cold days and long nights of winter.
Kirin $7.50
Stella Artois $5.50
Bud Light $3.50
Heineken $4.50
Corona $3.00
Blue Moon $5.50
Wine List
Elysee Brut - Glass $7.50 / Bottle $27.00
Produced in France, this sparkling wine has a fine mousse with classic creamy flavors and toasty notes. The bright acidity makes for a perfect pairing with just about any dish and is exceptional before the meal as an aperitif.
Leese-Fitch Chardonnay - Glass $8.50 / Bottle $32.00
A gorgeous and finely balanced white wine from Sonoma, this Chardonnay turns any meal into a heavenly experience. Pear, green apple and butterscotch flavors followed by a clean and refreshing finish make this the "go-to" wine for sandwiches, salads and appetizers.
Sonoma Cutrer Russian River Ranches - Glass $9.00 / Bottle $33.00
Parolvini Proseco - Glass $7.50
A fresh and fragrant sparkling wine from the Veneto region of Northern Italy. The Parolvini Prosecco has a fine and persistent bead of bubble which bring forth intense flower aromas. Dry and round on the palate, the wine finishes with rich apple flavors making for a pleasing aperitif or to be enjoyed with first courses and fish dishes
La Marca Prosecco - Bottle $28.50
In the heart of Italy's lush Prosecco region, the La Marca Trevigiana zone grows the revered glera grapes used to make this delicately flavored wine. With delicate, golden straw color and lively effervescence, this Prosecco is one of the best with aromas of fresh citrus, honey and white flowers. The palate is fresh and clean, with flavors of ripe lemon, green apple and grapefruit framed by mineral undertones.
Monasteriolo Cava - Bottle $34.00
Made from the traditional Spanish grape trio of Macabeo, Parellada and Xarello, this Cava has a fruity and invigorating bouquet with a creamy mid-palette that balances the racy Spanish acidity. Notes of marcona almonds blend through the finish. An excellent aperitif and also pairs well with lighter fare.
Line 39 Pinot Grigio - Glass $7.50 / Bottle $21.00
This Pinot Grigio displays fresh, delicate floral aromas in the nose. In the mouth, there are citrus flavors of lemon and lime supported by a full, long finish. Delicate aromas of strawberries, rich raspberry and cherry flavors, supple tannins.
Flora Springs Sauvignon Blanc - Glass $8.50 / Bottle $21.00
Fleshy, full-bodied and floral, this wine is generously proportioned in stone fruit and Meyer lemon tones. These tones complement the palate well, giving a sense of substance and style.
Santa Margharita Pinot Grigio - Glass $9.00 / Bottle $35.00
This wine is dry with intense aromas and appealing flavors of golden delicious apples and citrus with a long, multi-layered finish. Excellent as an aperitif and with a medium body that makes it versatile to pair with everything from salads to chicken or grilled fish.
Cannonball Merlot - Glass $7.50
Cannonball 2016 Merlot offers supple cherry fruit to richer boysenberry flavors, medium-firm tannins, creamy oak, and earth notes of graphite, tobacco, and clove.
Leese-Fitch Pinot Noir - Glass $9.50 / Bottle $35.00
Bright fruit with a velvety feel, the Leese-Fitch Pinot Noir will complement most dishes. A fine acidity helps cut through creamier food and the cherry flavors goes deliciously well with chocolate desserts.
Myka Pinot Noir - Bottle $34.00
This Pinot comes loaded with flavor yet remains delicate with subtle notes of cherry, earth and smoked meats. Pairs well with any meat dish as well as hearty fish like salmon.
Tobin James "Notorious" Cabernet Sauvignon - Bottle $41
Deeply colored with rich berry and tobacco on the nose. An explosive mouthful of juicy Cabernet flavors with a long and flavorful finish. This hearty wine does not disappoint and will pair with rich dishes of beef, pork and lamb.
J. Vineyards Pinot Noir - Glass $8.50 / Bottle $31.00
The grapes for this Pinot Noir were sourced from the best regions in California: Monterey, Sonoma, and Santa Barbara Counties. A medium body wine with hints of raspberries, rhubarb, blueberries, and orange rind. The fruit is juicy and succulent with fine tannins with a fruity and minerally finish.
Freakshow Lodi Red Blend - Glass $9.00 / Bottle $33.00
Aromas of Blackberry cobbler, toasted walnuts, espresso bean and hints of brandy. The wine is weighty with a velvet-like texture boasting flavors of ripe brambleberry jam, toffee, and dark chocolate mousse followed by wisps of pipe tobacco and mesquite.
Freakshow Lodi Cabernet Sauvignon - Glass $8.50 / Bottle $31.00
A myriad of French oak influenced aromas fill your glass, accompanied by toasted hazelnuts and blackberry cobbler. Flavors of ripe Mission figs and hints of clove and cinnamon give way to velvety tannins, balanced acidity and dark ripe fruits.
J. Lohr Pure Paso Red Blend - Bottle $33.00
J. Lohr is showcasing its most popular varietal Cabernet Sauvignon in a blend with the unctuous Petit Sirah grape. This is a duality of flavors entwining savory characters and overt blackberry notes in the J. Lohr house style.
Incognito Lodi Red Blend Rouge - Glass $8.50 / Bottle $31.00
Sake List
Eiko Fuji Ban Ryu Sake - 4 oz. $8.00 / 8 oz. $14.00 / Bottle $32.00
Low aroma, light and fruity, with undertones of black currant, finishing crisp and clean.
Shichi Hon Yari Seven Spearsman Sake - 4 oz. $10.00 / 8 oz. $16.00 / Bottle $40.00
Dried mushroom on the nose; viscous and creamy in weight and texture: bright grapefruit notes on palate; crisp finish.
Tozai Typhoon Sake - 4 oz. $6.00 / 8 oz. $10.00 / Bottle $28.00
Aromas of banana bread and a hint of spice. Medium-dry with a round, mellow finish.
Mimosa List
Base Choices:
$6.50 per glass (Elysee Champagne) | $7.50 per glass (Cava Champagne) | $7.50 per glass (La Marca Champagne)